How to Find Boat Shrink Wrap Near Me?
McKellar Marine services the Parry Sound & Greater Toronto Area
What is Boat Shrink Wrapping?
As a new boat owner, you may be wondering why so many people are asking "Where do I find boat shrink wrap near me?". Well, the an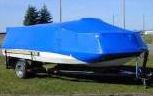 swer is simple.
Boat shrink wrap protects your boat or water toy from the elements. It's particularly helpful in winter. So before the snow comes down, save yourself some time. When you're wondering "How to find boat shrink wrap near me?" – rest assured. McKellar Marine has you covered.
But why stop with boat shrink wrapping? Every year, clients across Ontario rely on McKellar Marine to wrap a variety of boats, water toys, outdoor furniture, RVs, and other items from harsh weather and debris. It's a popular and affordable means for winterization of your valuable commodities.
Why Shrink Wrap Near Me?
Shrink wrap makes it easier to effectively weatherize irregularly shaped items and to wrap large bulks of commodities or equipment into pallets.
Boat shrink wrap can help with seasonal weatherization of newly manufactured boats, or those that are placed in storage. A boat that has been shrink wrapped can be transported with a reduced risk of road or weather damage.
Now you don't need to pay for additional protection during shipping – you can simply shrink wrap it and transport it in its own cocoon.
Boat shrink wrap is 100% recyclable! It allows you to protect your boat without any negative impact on the environment.
Find Boat Shrink Wrap Near Me This Winter
If you want to protect your boat from snow during the cold, windy months. The shrink wrap will heat up your boat when the sun shines, thus drying faster.
Boat shrink wrap is available in clear, white and blue – all colors that are socially acceptable in neighborhoods. These wraps are used in boat sales as well as by people who live aboard their boats. Since the shrink wrap is translucent, it provides amazing visibility from the inside and from outside.
McKellan Marine for Boat Shrink Wrap Near Me
Need boat shrink wrap? Get in touch with McKellan Marine now to learn more about how to measure your boat for shrink wrap and how it is applied.